FREE ALL EU SHIPPING ORDERS FROM 250 € | 5% OFF FIRST ORDER FOR NEW SUBSCRIBERS
We LOVE You Mother Earth
OUR ECO MANIFESTO
Planet Earth is the most important to us. From the beginning, we have been involved in every process of creating our products, so that their creation does not have negative effects on the environment and climate.
SUSTAINABLE / ETHICAL / RESPONSIBLE / CAREFULNESS
2.
RESPONSIBLE MATERIALS
&
CERTIFICATES
1.DESIGN
Great things starting from sustainable idea. 
We believe that ethical intentions and sustainable practices, alongside design, should underline a garment's value.
We work to integrate core sustainable principles with high-quality materials without compromising on each piece's look, quality, and functionality. Our clothes are designed to last beyond the season, moving away from the practice of fast fashion that generates enormous waste with huge environmental implications.
We aim to remove the stigma that clothing should only be worn once or twice. Our clothes are designed to serve as key standout essentials that can be mixed and matched or built upon. We aim to inspire our customers to explore their personal style through considered design to generate a more sustainable future.
2.RESPONSIBLE MATERIALS & CERTIFICATES
WE BELIEVE BEAUTIFUL DESIGN BEGINS WITH RESPONSIBLY SOURCED MATERIALS.
Sustainable materials in fashion involve the use of materials that are less harmful to the environment and human health, such as natural dyes, non-toxic chemicals, and biodegradable materials.
This approach promotes circularity in the fashion industry by reducing waste and encouraging the recycling and upcycling of materials.
We selected each material with intention and care, considering the journey from the farm to the manufacturer, to the garment.
Our main priority is to use natural and organic fabrics from proven factories that have the highest world certificates. They are safe for both the environment and humans.
We use materials that do not harm the animals in any part of the process.
We prefer to work with these materials because they have also so many great properties and are comfortable to wear.
All our fabrics are certified according to international standards such as GOTS (Global Organic Textile Standard), BCI ( Better Cotton Initiative), OEKO-TEX, and Lenzing.We constantly want to expand our offer of natural fabrics with new certificates.
GOTS
*GLOBAL ORGANIC TEXTILE STANDARD*
Is the best and most detailed textile certificate in the world, covering all stages of the production of natural fabrics - from the raw material to the finished product, as well as social and environmental issues. GOTS guarantees that the certified products have been manufactured in the natural environment and employees' rights.
OEKO TEX STANDARD 100
Is a certificate confirming the quality of textile and textile products that come into direct contact with human skin. Thanks to this certificate, the fabrics from which the clothes are made are free from harmful substances, e.g. pesticides, chlorophenols, formaldehyde, dyes, etc.
LENZING™
The wood of LENZING ™ fibers comes from certified and renewable sources. It is obtained using an ecologically responsible production process and meeting high environmental standards.
The production of LENZING-certified fibers is adapted to a sustainable lifestyle and doesn't harm the environment. The certificate guarantees that clothes made of fabrics made of these certified fibers have a low impact on the environment.
Viscose fibers come from wood and wood pulp from certified and controlled sources.
They received the EU Ecolabel certificate as meeting high environmental standards throughout their life cycle: from raw material production to production, distribution, and disposal.
BCI
*Better Cotton Initiative*
Better Cotton Initiative (BCI) is the world's largest cotton sustainability program.
BCI aims to change world cotton production by counteracting the negative effects of its cultivation and processing. In line with the following four goals, BCI aims to make the Better Cotton program sustainable and universal:
Reducing the environmental impact of cotton production
Improving the living conditions and economic development in areas where cotton is produced
Improve commitment and introduce Better Cotton throughout the supply chain
Ensuring credibility and sustainability with the Better Cotton Initiative
As a sustainable fashion brand, we primarily use organic materials that are inspected by independent institutes.
These natural raw materials are key for the high-quality fabrics we use to make our THE SUNDAY MORNING STORY wardrobe favorites.
ORGANIC COTTON
Organic cotton is processed without the use of toxic chemicals, such as bleach, formaldehyde, and heavy metals. This makes it a safer and more sustainable choice for both consumers and the environment.
LINEN
Linen is a natural fiber that is derived from the flax plant. It is one of the oldest textile fibers in the world and has been used for thousands of years to make fabrics. Linen is highly valued for its exceptional coolness and freshness in hot weather, as well as its durability and strength.
CUPRO
Cupro is a type of regenerated cellulose fabric that is made from cotton linter, which is the short, silky fibers that cling to the cottonseed after the longer fibers have been removed. Cupro fabric is often compared to silk in terms of its softness and drape, and it has a luxurious feel that makes it popular for use in high-end fashion garments.
LENZING™ ECOVERO™
LENZING™ ECOVERO™ fiber has a lower environmental impact than generic viscose, leaving the water cleaner- up to 50% less water impact. It's made from natural and renewable raw material, wood, and pulp that comes from certified and controlled sources derived from sustainably managed forests.
TENCEL™ Lyocell 
TENCEL™ Lyocell fibers are extracted from sustainably grown wood using a unique closed-loop system that recovers and reuses the solvents used, minimizing the environmental impact of production. Unique physical properties lead to their high tenacity profile, efficient moisture management, and gentleness to skin.
DEADSTOCK
Deadstock fabrics from designers refer to unused or surplus fabric materials that were originally purchased by fashion designers, brands, or manufacturers but were never used in the production of garments or other products. Deadstock fabrics can also result from overproduction or canceled orders.
WE SEW OUR CLOTHES LOCALLY, NOT GLOBALLY. IT'S A CONSCIOUS CHOICE THAT ALLOWS US TO MINIMIZE THE NEGATIVE IMPACT ON THE ENVIRONMENT.
Our goal is a fully transparent supply chain, which is challenging but we try to do more every year.
To achieve this we prioritize fair treatment of our workers and artisans.
We also aim to minimize waste and energy usage wherever possible throughout the production of each garment through innovative techniques like digital printing, minimizing fabric waste by sewing hair accessories, and not carrying extra stock produced by Made To Order.
Work with mills focused on using renewable energy, reducing water usage, and reducing air emissions.
TAILORING STUDIO
Because we produce our clothes locally, in a small friendly tailoring studio, we are in constant contact with each other and visit often.
We believe in long and equal relationships with our suppliers, as this helps to ensure greater transparency in the process and trust in each other and the work processes. We do not move our production from place to place depending on where the best prices are, but instead, commit ourselves to produce at every single supplier on every collection we launch.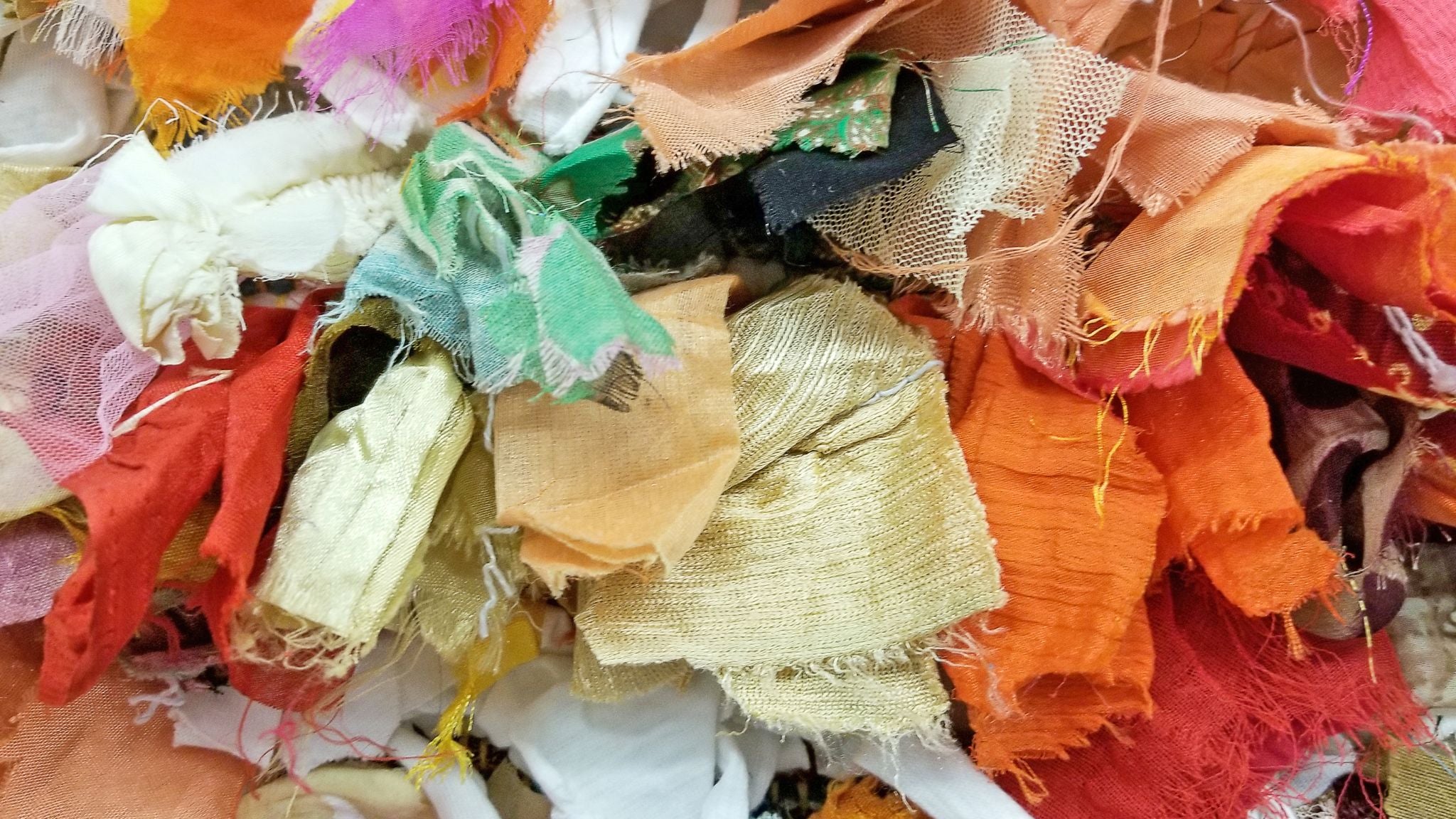 MINIMIZE WASTE
We are a small, independent brand, so we can keep waste to a minimum at every stage of production; ordering as little fabric as we can, keeping our cutting tight and only ever producing what has been ordered by our stockists.
WE USE FABRICS TO THE MAXIMUM. From the remaining fabric scraps we sew hair scrunchies and toilet bags, or we give it to a friendly brand that creates toys for dogs. The scraps are used to stuff dog toys.
MADE TO ORDER
We know how much influence the production of clothes has on our Earth. Globally the industry is one of the biggest polluters. With this in mind as a part of our sustainability ethos, we wanted to take a slower approach to fashion by MAKING SMALLER PRODUCTION RUNS & MADE TO ORDER COLLECTIONS.This means that every clothing will be made after the order, without us carrying extra stock we don't need.
NATURAL FABRIC DYES
We want to squeeze as much out of nature and its resources as possible, which is why we dye our fabrics and fiberswith dyes of natural origin, which are obtained from local plants. Thanks to this, we know that the fabrics are safe and do not contain heavy metals and chemicals.
TEXTILE PRINTING
We are using digital printing instead of traditional wet printing to reduce fabric waste and allow small runs of production. Digital printing reduces water waste because the fabric doesn't need as many wash /rinse cycles.
We are using digital Green Printing technology with low consumption of water, energy, and chemicals by the GOTS (Global Organic Textile Standard) and OEKO-TEX® Standard 100.
PRODUCT DETAILS
Extras matter. We use recycled cotton labels to label clothes. Buttons on shirts or dresses come from recycled materials or natural materials such as shells or corozo.
RESPONSIBLE PACKAGING & GREEN SHIPPING
We do not use anything related to plastic to ship our packages.
We pack all orders in corrugated cardboard boxes made of 90% recycled materials.
The print was made with the use of water-based paints making the boxes compostable & biodegradable after use.
We encourage our suppliers to reuse packing materials.
We reuse our cartons in our warehouse and office ourselves.
OUR GOAL FOR GREEN PACKAGING IS TO REDUCE THE ENVIRONMENTAL IMPACT OF PACKAGING THROUGHOUT ITS LIFECYCLE, FROM PRODUCTION TO DISPOSAL.
5.CIRCULARITY
REDUCE-REWEAR-RECYCLE-REPAIR-RESELL
Circularity in fashion is an important concept that can help reduce waste and improve sustainability in the fashion industry.
It involves a shift away from the traditional linear model of fashion production and consumption, and towards a more circular and sustainable approach.
REDUCING
From the beginning, our assumption was not to create overproduction, and thus not to have a warehouse full of clothes that were sewn in large quantities. We want to make sure all of our clothes find a home and try to sell as much as possible through our shops and retailers.
UPCYCLING
This involves breaking down used textiles into their basic components and reusing them to create new products. Prototypes and fabrics that remain after production are processed into cosmetic bags, sachets, bags, scarves, and hair bands. We give fabric scraps to a friendly company that produces accessories for dogs, which uses them to fill toys. We are constantly working on introducing new ideas related to upcycling.
REPAIRING
Invest in well-made styles in good-quality fabrics. Our styles are timeless and made in lasting materials, making them a safe investment for years, and a long-term solution for your wardrobe.
Throwing away clothes as soon as a hole appears is not in line with our sustainable approach. We encourage our customers to wear clothes more than once, and when an imperfection appears on them in the form of a hole, abrasion, or broken button, we can fix it. We are in the process of introducing a Repair Service that will help keep the clothes purchased from us in good condition for longer without harming the environment.